About our organization
Haiti's Eden USA, exists to support the ministry of Monel & Joselie Jules at Haiti's Eden in Limbe, Northern Haiti. A U.S. 501c3 non-profit, the members of the board represent a coalition of churches and individuals who support the staff at Eden through prayer, mentoring and friendship, raise funds for the Clinic and Community Center, and coordinate service trips to provide medical aid, construction help and children's programming. We consider the Jules and the staff at Eden to be true brothers and sisters in Christ. Their ministry is an extension of our own and we are blessed to call them friends and partners.
The Story of Haiti's Eden
Founded in 2010 by Monel and Joselie Jules, Haiti's Eden is the culmination of their vision to give back to their community. Born in Limbe, Northern Haiti both Monel and Joselie dreamed of using their education and training to transform their home town. An equal concern for the spiritual, physical and community health of their neighbors spurred them on through years of study, Monel receiving a PhD in Theology and Joselie a Medical Doctorate.

Monel now serves as the full time Director and Senior Pastor for the Eden Church and Community Center. Joselie is the Physician in Chief at the medical clinic. Motivated every day by their vision to "Share the love of Jesus within the community", Monel, Joselie and their small staff seek to help people find a relationship with the Lord through the testimony of the church, enriching the social and economic quality of life, providing for basic healthcare needs, strengthening local agriculture and equipping the next generation through youth programs.
GET CONNECTED
Haiti's Eden US Board, PO Box 484, Hayden, AL 35079
P: (1513)403-6204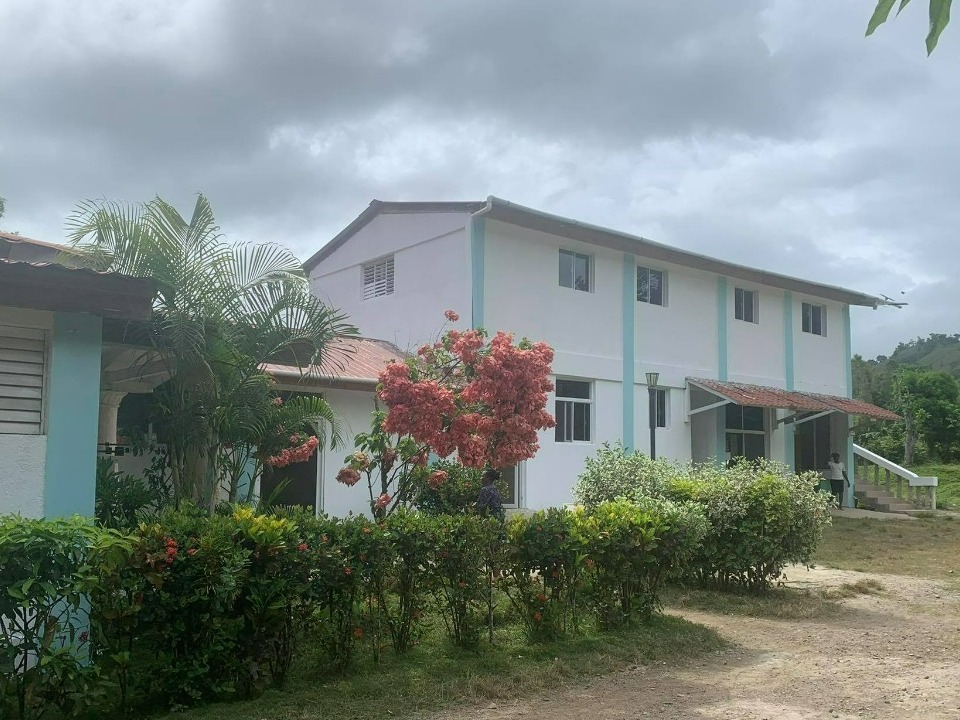 KEY PROJECTS AND PROGRAMS FOR 2022
Community Pantry and Infant Nutrition program
Funds to stock the Community Pantry and supply formula for malnourished children are always needed.
Community Center & Restrooms
Ongoing staff support
Letter of Jubilee - December 2021
Dearest partner of Haiti's Eden,
Merry Christmas and Happy New Year!
Down in Haiti, Joselie and I are so happy to make it, alongside with you, till the end of 2021. God has been good to you and to us. We are so happy to have celebrated Christmas and to be alive for the coming of 2022. We did not do anything to make it so far. Our Lord did it all.
In the meantime, we are indebted to you and to Him for the 10 years of Haiti's Eden ministry (October 2011-October 2021). We have started this journey timidly and humbly. But God has put you, your family, and your church in our path. Today, 10 years later, hundreds of people have heard the Gospel; thousands have received healthcare; many have been blessed according to our various ministries. You have ridden with us; you have contributed through your love, your expertise, your prayers, your presence, and your financial support.
So many things have changed in the past 10 years. God has transformed a nothing to something for His glory. You can thank Him for using you and us to transform hearts, lives and destinies. Currently, Haiti's Eden has an active American board; is recognized as a 501c3; have me and Joselie working fulltime and living in the community. Our numerous ministries have employed directly 44 people around Limbé and in the immediate community, for a monthly salary of 439,825.00 Gourds (US $4,265.00 today). We are contributing yearly, to young people education, approximately 100,000.00 Gourds (US$970.00 today.) At the medical center we see over 1,000 patients monthly. With our partner at SANS meal bars and your donations, we provide meals for 600 overnight patients a month, along with 1,200 meals a month through the church food pantry.
Thank you so much for trusting us as your partners on the field. Haiti is our country, but you have used Joselie and me as your missionaries there. You have opened your heart to know us, to know our names and love us and our three children. You have added us to your contacts, and we can email you, chat with you whenever we need you. You have opened your doors to receive us to your home. You have taken the risk to endorse us publicly and to advocate to our needs and dreams. You have generously opened your wallet and your check book for the purpose of the ministry or for our personal care. Frankly, you did more than our relatives. You have become a new family for us.
Ten years you have been there for Haiti's Eden. For a decade, we have been partnering. Thank you so very much! We are praying that God can continue to use us for several decades to come. Rest assured that Joselie and I will do our best to remain firmly on post, even when living in Haiti is very risky. So far, God is protecting us every single day for His glory.
During that period of time, we have all stumbled over some obstacles: sickness, death, discouragement, cancelled trips, lack of money, family concerns… However, being alive and acting for God's pleasure are the best among everything that we can imagine.
We are praying for you and your family. We are still dreaming about more ways to touch God's people. We hope to see more patients as we work to find a gynecologist to work with us, along with an anesthesia machine for surgeries. You will continue to receive invitation to travel to Eden, whenever the world conditions and local situation allow. We covet your support for our dreams and visions as we launch new ministries and community initiatives. In short, we still need your prayers, your ideas and your financial support. You can help through our website (www.haitiseden.org), through AmazonSmile, while shopping, on your birthdays, through Facebook or directly to:
Haiti's Eden USA | PO Box 484 | Hayden, AL 35079
We are hoping that the coming decade will find us acting for God's glory and still sharing His love within the community. May God bless you abundantly, sustain Haiti's Eden in America as in Haiti, and may Jesus come back soon!
Haiti's Eden, Limbé, Haiti, on December 30, 2021.
Monel Jules,
Director and Senior Pastor